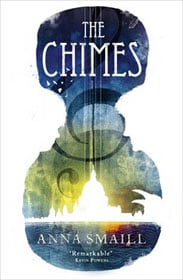 Unfortunately, I think I wanted to like this book more than I did; the premise excited me, but the actual reading experience didn't quite match up to my hopes for it.
In particular, I think that the characters weren't as well developed for me as I would like; I wanted a stronger impression of them, a stronger sense of who they were and what their personalities were like. This is mostly just my tastes but I think there could easily have been a little bit more information on the characters – I can understand that a lot of the absence of this characterisation was because of the memory loss aspect of the novel, but I still felt like there could have been a little bit more on other characters even if the memories were then going to be lost.
The ending was another catching point; I felt like I'd been deprived of a chapter or two that would tell me more about why the Chimes had started and to illuminate what would come next following the events of the ending. I can understand why the Chimes happened, but the how is still mostly a mystery to me, and there's not a lot of detail into it either; I'd have liked some more of an insight into what led to the world being as it is in the book. It's also unclear what the reach of the Chimes and the dystopian society it causes is – does it only affect England, or Britain? What's going on in the rest of the world if the Chimes aren't strong enough to affect the entire planet? It's also unclear what era they're in – a lot of the descriptive parts of the novel led me to picture something more Victorian, yet some of the characters are wearing jeans. There's no evidence of there having been any technology that one would expect when the Chimes have to have happened in a society that had jeans – there are no signs or hints at there being cars or telephones or anything else, which you would expect given that jeans weren't worn outside of the West of the United States before the mid twentieth century.
Ultimately, I just felt that there could have been more clues and details from the author. Even if it wasn't from Simon... there could have been chapters that weren't his PoV and that tell you more about the history of the world and the era they lived in. I was also a little bit alienated by the musical terms that were peppered throughout the text; I kept having to Google what they meant so I would have appreciate a kind of glossary or something for these!

I wanted to like it; it just felt a bit unfinished.